Call us today on

Long Lasting Bath Repairs

Does your bath need repairing? We can do an invisible chip repair or Re-enamel the whole bath in-situ. Call today for free advice. 
• Colour Matched
• Baths Repaired 
• Baths Re-Enamelled
• Cracked Baths Repaired
• Chipped Baths Repaired
• Cast Iron Bath Repair
• Bath Restoration
• Acrylic Bath Repair
• Bath Repair

We have done work for..

We cover the whole of the South East.
All our work is covered by a Superior Bath Repair guarantee.
Call now to get all your questions answered and for a free quote on 0208 226 4212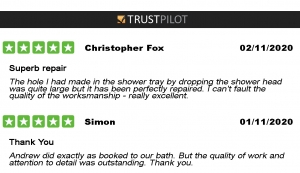 We Specialise in Bath Repairs
Bath and shower trays are generally installed in houses prior to walls being completed.  Therefore, when damage is discovered at the end of the building process, it is not always possible to replace the bath but better to repair it.
Superior Bath Repair has one of the best chip repair services in the Uk. Our technicians have been trained up to the highest standard and are able to colour match any colour.
We get a lot of builders calling us asking for emergency chip repairs to sinks or shower trays. If you have an emergency chip repair that you need sorting out give us a call today on 0208 226 4212
About Bath Repairs and Acrylic Bath Repair
Bath Repairs
Bath Repair and Bath Restoration is the system in which a baths, shower trays and acrylic baths are repaired to a high standard. With bath repairs we can colour match you bath and do a spot repair on it.
Throughout the years, we have done many acrylic bath repairs as well as press steal and cast iron bath repairs. We also get called in to do bath restoration if that bath is in a very bad state.
The Superior Bath Repair Procedure:
• First, We inspect the bath for the damage to work out the best way to reapir the damaged area.
• We then use our special bonding agent on the damage so that the new surface sticks to the old surface.
• We fill and repair  and fill in the damaged area, making sure that the contour is the same as before.
• This is then allowed to fully cure and harden.
• Then we sand the area down and smooth it off.
• Once done we will then by eye colour match the correct colour for your bath. This is where the magic happens as our technicain does this all by eye and due to years of experience.
• At which point the bath is bonded again to ensure the best bond. 
•The new surface is then sprayed over and blended out so you cant see where the damage was.